One of my friends ever told me that there are 4 caste in people's career:
1. employee, such as bankir, manager, secretary, etc
2. professional, such as consultant, auditor, architec, etc
3. enterpreneur
4. investor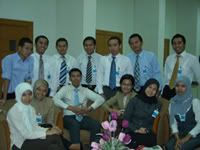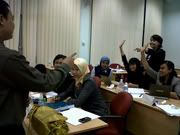 Most of us (me and my friends) are might be in caste 1 and 2. Because eventhough they are already in professional caste, but still the level may be in junior level or senior. It means that you are still an employee in professional firm. May be some of you already have your own business, but i bet that you have experience as an employee a moment a go.

And as an employee or junior professional, we perhaps have same feeling today (well probably this feeling already here in my heart since 2 weeks a go)... I do really wait for the 25th come!!!
Why??? Because its payment date!!!!! My saving account will be credited by the amount of IDR!!! My budget list which i already created a week a go will be used!!! My refrigerator and cupboard will bi filled again with new things!!! My date and appointment will be scheduled!!!




As i remember i already counting to that special day since the 5th of this month. I feel really bankrupt this month. So everyday i kept saying.."Calm down tiwi...20 more days to go..." and at the next day I also said "Okey...19 more days.."

Well,,i feel ashamed that now i become the people who always waiting for the 25th. A few years back i always plan that i afford to buy a small car in the 1st year of my employment. But until now,,exactly 1 year of my career, my saving even cant afford to buy notebook.

I dont know should i feel sad or glad to know that not only me who are in this 'waiting 25th' position. Some...oh no...most of my friends feel it too!!! And when the 25th come,,here are their schedule for the month:

25th : hang out with friends in PIM and drop by to Metro a while
27th : shop till drop in Amabassador and treat family in family resto
28th : XXI-ing
29th : monthly shop in Carefour and...hair treatment probably
3rd : hang out again in Pacific Place
5th : dating in luxury cafe
7th : hang out in Plaza Semanggi while look for some sale in Centro
10th : 21-ing...
11th: start counting the day to 25th

Hemmm... no wonder i or we were already broke before the mid of month. Too much fun, isn't it?? And hey,,have i/you/we already spare the money for the need??
Some says "Work hard play harder.." We have already work hard enough then its the time to please ourself, with our own money. Shop and hang out with friends is the great pleasure to rest our mind. Dating is the precious moment to spoiled our heart. Watching cinema is an opportunity to keep update with Hollywood. And no such things as a free lunch right. The 25th money will be spent for such things, unless our boyfriend is Ardhi Bakri or Edhi Baskoro Yuhoyono ...=p

But...dont you remember we have many things that should need to be done very soon....take master degree...take toefl test/brevet/cfa/cpa/cia....married..travelling abroad?

Is your saving enough to realize that in the coming years???

So...while counting to the next 25th, we better think again wisely what should we do with the amount in our saving... =)