22 years of my life are a very grateful gift i got from Allah swt. I can feel what a called family and friendship. Fams is always around us from the day we saw the world till the day we close our eyes. And friends will colour our lifetime with experience...

"Every person is a new door to a different world." - from movie "Six Degrees of Seperation"
As we know sometimes friends come and go... Its not their decision to come or to leave us..its sim ply because the condition. As we grow, old friends left and choose their own way which could be different from ours. But for sure we will meet some new people that can bring us to a different and totally new kind of relationship. Yes,, each person create new story in our life..a new experience. Here are the people that i most love and hard to forget...
1. This is my college friend.. The brilliant, cretive, active, and humple person. They help me a lot in balancing life,,fun, academic, and religious... They are the people who inspired me to reach my dream. Thanks guys!!!!






tiwi, oliv, sita, yana , sari, patar, peter, (rio, bolo, riza, rachmat - not in this photo)




2. They are what so called forever friends. New friends come,,but they never left. We always have a thing that can unite us: Arisan..hehe. They are my junior high friends who prove that "In good times, in bad times I'll be on your side forever more, that's what friends are for" is really exist.




3c SLTP Sudirman member





3. Hey...this my peer group a.k.a geng,,my high school mate. They are the people who taught me how to enjoy my life. We used to laugh and have fun together, and even do the child's crime. With them my teen period was so colorful.






rina, wai, fanit, wulan, putri, lili, abu, tiwi, (lingga-not in this photo)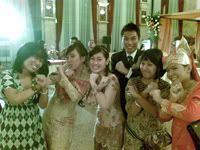 4.Each person mostly created uniquely and differently with each other. They are one example of the people that ever come in my life, laugh and cry together, but in the end we choose our own way to grow. But we used to have a common thing to learn at the first time we are united: "Leadership". And i balieve one day we will meet again as leader in our own business.




asrie, ninda,prasti, sammy,lila,tiwi, (jenny and lula-not in this photo)





5. Last but not least....my roller coaster/my on and off/far in sight but near in heart (hahaha...) mate. Sometimes our feeling is so strong but sometimes just so so. They are the most busy people i ever know, we could never met each other, its like 30 days in a month is not enough to pick the right day to meet. (fyi, while writing this blog, one of them called me...what a coincidence). Its makes us always miss each other like crazy...of course because we never met..haha..Always miss u dear!!


And "Every person is a new door to a different world." is really really right. Your life will be more colorful with many kind of friends. You will see something new by meeting new friends. You will learn pricely lesson by getting to know each friends...
So,,dont be mad and left your friends.. Because they might come and go but keep the feeling stay inside. =)